---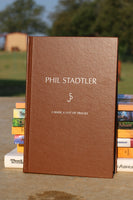 "This is the best book ever, you will not regret buying it and sending another to your friend."
Preface: To meet Phil Stadtler at this age of his life in the half-light of a winter afternoon coming through the windows, is to have a great deal to learn. He needs some help since his loyal wife Lois passed away. Luckily he has it. His daughter-in-law Nancy is busy in the kitchen cooking dinner. Lois's sister Riva is in the office managing the details of his business affairs. She also tries almost daily to beat him at gin rummy. Charlie, one of his grandsons, stops in to talk over work details of the ranches he manages for Phil. And friends, concerned about the health of someone they hope they never have to do without, calling him up or stop by to visit. 
To get to Phil's home you take the mile-long lane off Hilmar's American Avenue past Charlie's house where he, his wife and two little girls live, past corrals and pastures, and through a zone where cottontail bunnies dart out of a briar patch like a ball rolling into the middle of the road. Heed the signs --- the safety of Children and Bunnies is unequivocal. 
Phil has been working on writing his life story since July 30, 1920 when he was born in the San Antone Valley of California's Costal Range. As the crow flies, the Stadtler home place, Homestead, is a short ride. In terms of accumulated history, family and friends, miles traveled, the staggering number of animals and acres he has bought and sold, the scope of his abilities, the bold deals he has made, and his courage for those that eluded him, it is a fascinating trip, one he invites his readers to take with him. 
This unflinching autobiography is a cautionary tale. He makes us understand that by giving into consumerism and ease, "we've lost more than we've gained." He reminds us of a friend's advice to him - "Never hire anyone to do something you can do yourself," and he lives the idiom, "If you can't say something nice, don't say anything at all." Independence and hard work are attributes that made our country great and, by applying them everyday of his life, Phil has achieved a kind of greatness. 
In the end, Phil Stadtler restores our faith in humanity because honor and honesty are an integral part of his professional and personal life.